The Angel Inn, Highgate, London N6 5JT, 29 April 2022
Let's celebrate the start of the bank holiday with Fish and chips, we are at The Angel Inn, Highgate.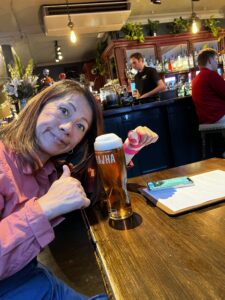 Some pubs around the area were packed, here, we did not have any problem getting the table.  Also offering Fish and chips, Pale Ale-Battered Atlantic Cod & Triple-cooked chips, minted crushed peas, homemade tartar sauce at friendly price of £15 – these days £15 is an attractive pricing point.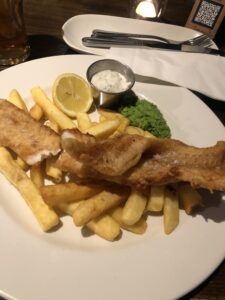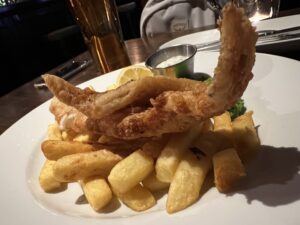 Waiting, waiting and waiting.  Finally arrived, oooooohhh this is not good – it may be difficult to see on this photo – but first impression – POOR!
Fish 2/15 – Very thin flesh of fish, no flavour.  This must be the last piece of fish left in the kitchen.  Hard batter, this thin fish flesh is completely overcooked and dried
Chips 3/15 – Triple cooked chips?  I don't see any evidence.
Minted crushed peas 5/10 – mediocre
Yes £15 is probably a good price at moment – but, I don't see any justification of  this –
Good night!