The Bull & Last, Kentish Town/Highgate, London NW1 1QS, 7 April 2022
Hello hello hello – cannot wait for the warm weather, keep our head down – have fish and chips, here we are at the Bull & Last, Kentish Town/Highgate, London. Let's crack on – Beer Battered Haddock, Triple Cooked Chips, Tartare Sauce, Mushy Peas £18. OHHHHHHHH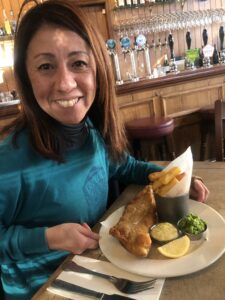 Good first impression – at least great portion size – but £18…..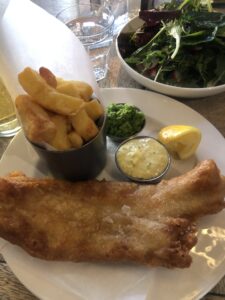 How about chips – does not look a lot…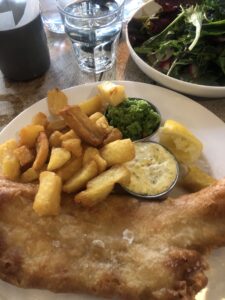 Yes it's lot! this metal bucket is deeper than it looks!
Fish :5/10 Mmmmm….great big piece of flesh but ahhh – watery, too soft, almost mushy texture, batter too greasy- they leave very unpleasant feel in the mouth while munching – watery fish and greasy batter are not a good marriage.
Chips :4/10 Triple too much cooked – very disappointing, too hard in outside and when munching, triple cooked too much meant not leaving fluffiness of potatoes inside – also not seasoned – satisfactory portion
Mushy peas :4/10 crushed fresh peas, not mushy enough felt quite stringy in texture, nice bright colour gives great accent on the dish
Overall a bit disappointing 4/10, for £18 – at least not cutting portion size – but definitely need improvement if you want to charge £18.
good night!