Doggett's Coat and Badge, South Bank, London SE1 9UD, 1 April 2022
How I had never been here!?!?  Amazing view of beautiful twilight at Doggett's Coat and Badge, South Bank on the Thames.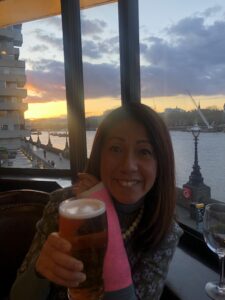 Let's crack on with Fish and Chips – Nicholson's Fish & Chips – Haddock hand-battered in Nicholson's Pale Ale, served with triple-cooked chips, mushy peas and tartar sauce £15.25. – this felt so reasonable in this age of cost of living crisis era.
It's difficult to see on those photos –  but the first impression was – small portion.
Fish : 7/10 executed well batter was crunchy but fish flesh was thinner than I am used to.
Chips: 7/10 Again, executed well but I did not feel what is "triple cooked" part of them.  Also I probably had 12 chips – could do more
Mushy peas 6/10 Nothing special but nothing wrong with them
Overall satisfactory – I was impressed, this is one way to keep cost down – to reduce portion sizes, but who can blame them? We all need to survive.  Good night!