The Woolpack, Bermondsey, London SE1 3UB, 26 March 2022
Yo, enjoying spring days in Bermondsey, London, time for a pint and fish and chips at the Woolpack, Bermondsey.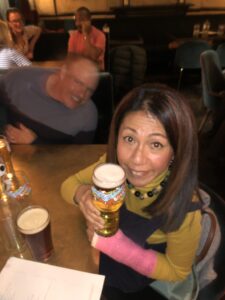 Time for Fish and chips – Fish.Chips.Mushy peas. Tartar sauce £17…… Previously visited in October 22, I was not overly impressed with price tag of £16.  Inflation busting 6% increase in 5 months!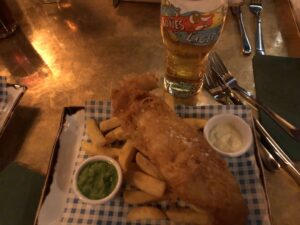 Fish 8/10 – Massive improvement from previous visit – great marriage between fish and crunchy batter.  Served piping hot, this appropriate thickness of  crunchy batter was mixed well with flavour of the fish in my mouth – Heaven!
Chips 7/10 – Well excited simple chips well seasoned with salt
Mushy peas 5/10 – simple but pleasant, give me more!  Surely, give us more mushy peas should not affect your profit!
What can I say? Cost of living crisis everywhere – I do feel for the business – Thank you Woolpack,  I did enjoy the fish and chips tonight.
Finally – this is not me, one of my companion of the evening – this is the worst example of how you eat fish and chips.  If you cannot eat all, eat half but not "decompose".   How do you enjoy the beautiful "marriage" of the batter and fish otherwise!!!!
Good night!