The Woolpack, Bermondsey, SE1 3UB, 22 October 2021
Good evening, Friday excitement is back in town, walking through London Bridge station, there were so many people, I can say it was pre-pandemic level of rush hour.  Short walk from the London Bridge station, here we are at Bermondsey St, The Woolpack.
Fish and chips, mushy peas, tartar sauce£16… I am not sure what to make of this "£16″…. Brexit effect of shortage of petrol, food stock, delivery delay….all included.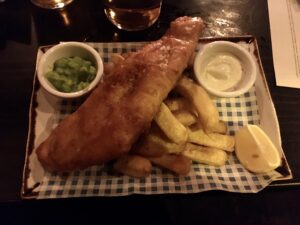 Fish 4/10 : Batter is OK, good thickness, simple, crunchy texture.  However,  very disappointed with actual fish flesh – very watery with very little flavour.  I suspect it was not defrosted properly.
Chips 7/10 : Better than fish, seasoned well with salt, again, simple but well executed
Mushy pea 4/10 : very small portion and no twist of mint or butter – simple.
Overall, simple, nothing special mediocre fish and chips, does not provide me any lasting impression.  It was served in a very small plate with cheap gingham paper there is no sign of £16. The place was too dark, it was difficult to examine visually.
Friday excitement was not dampen down but I don't think I will be back in hurry!
Good night!