The Mossy Well, Muswell Hill, N10 3SH, 31 October 2021
Happy Halloween…. we are late, thirsty and hungry. It is now 10:30pm, we are saved by The Mossy Well, Muswell Hill.
Also managed to order food while having drinks at this time of Sunday night outside of the central London is miracle. I know the fact that even kitchen closed at curry restaurants this time of Sunday night.
Fish : 6/10 Simple batter well executed, could wait for further 1 minute to drain oil before serving . Fish itself was very thin – but firm enough texture, some flavour.
Chips: 7/10 Definitely above average, though no seasoning. I added salt and paper
Mushy pea: 5/10 average but generous portion
Overall 6/10 – but what can I say, the price structure – Fish and chips with beer was £8.45. Have I been ripped off from everywhere? I only recently had mediocre fish and chips for £16 (drink excluded!), I can actually say, the fish and chips tonight was no different in quality.
Also, this place is opened until 12am on Sunday and able to order food until 11pm.
Tim Martin, the founder of the Weatherspoon is a prominent Brexiter. After the referendum I decided that I will never go to the Weatherspoon to use my money. This vow was broken tonight with desperation. I also have to be fair – he is a one of the kind – absolutely genius businessman. The price structure, the opening hours, maintaining standard, new ideas (e.g, stop serving roast meals, serving all day breakfast, etc)….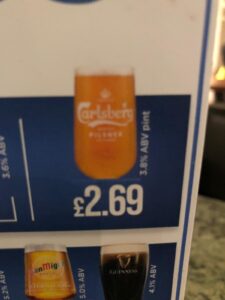 Finally we recently paid nearly £7 for a pint of "craft beer", tonight, all guest beer £1.99 – ok, may not be "CRAFT" and no atmosphere – but nothing wrong with them – my lager was certainly served well.
I was so grateful to be able to eat and drink! Sleep well tonight!!!