Woodman, Flaming Grill Pubs, London, SW19 8DR, 29 January 2015
Good evening.  I am doing something completely different tonight at Wimbledon, Woodman.  The one-off special from Fish and Chips critic.  It is the famous burger challenge!!!  We are four of us, I am confident I will be the winner.  I can eat a large volume.
After a few small sips, I asked for a new pint.  They were not happy!!!  They did not believe my verdict, obviously they did not know I am a (non-official) lager critic .  After my persistent negotiation, they exchange to Fosters.  This was better.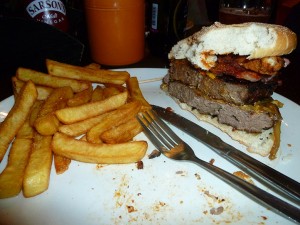 This is my end point.  Managed all onion rings, over 1/2 portion of chips.  1/2 burger.
With 2 pints of fosters, I managed nearly 2000kcal.  Well done me, but finished at second place.  Gutted!!!!!
Question: If this was Fish and Chips, would I done better?  Probably yes.
I have learnt I am not keen on burger.  Go back to what I know, Fish and Chips.  This was my reflection of this experience.
Good night!