Café Rouge, Covent Garden, London WC2E 7BD, 6 January 2017
A Happy New Year 2017 to you all!  A greeting from Fish and Chips critic, yes I am an active critic.  Please don't forget me!!!!
Probably the quietest Friday of the year, dark, wet, cold, we were marching down the street towards Café Rouge, Covent Garden,  in fact, it was easy to march down, so little people on the street around 10pm on Friday, unbelievable!
This will be my first Fish and Chips of 2017, I have some fond memory of Poisson Frites, I was very happy with our choice.
Yes, £13.50 is not cheap but given the location + restaurant setting (even though it is a chain restaurant with all year round discount voucher), I accept this.  In fact, I have a voucher 50% off foods so it's more than OK.
OMG, I cannot describe how disappointed I was when I saw this, straight from frozen box, not just fish being frozen, this was breaded frozen fish.  Take a close look, you should all agree.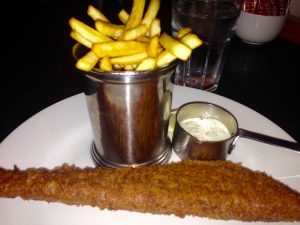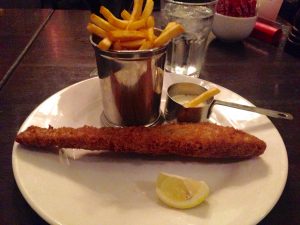 Following is the reminder of what I previously had at the price of £13.00,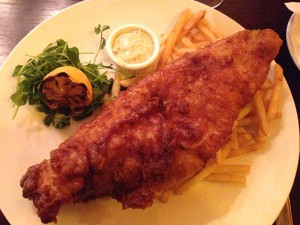 How could it be so different?  We assume, chain restaurants to have minimum standard and consistency across restaurants.  Also, I paid shocking 3.8%more than the last time (sure, Brexit related inflation).
I don't give the rating tonight.  I want to forget about this.  Yes, I only paid £6.75 with my 50% off voucher.  But there must be poor customers who paid full shocking £13.50 on this poor quality food.    Shocking, a restaurant in the covent garden can serve this quality of food, where you are hosting hundreds of tourists.
I want you to have a pride, you could be a face of London Restaurant, make or break tourist's dining experience.  If I was a tourist, having this Fish and Chips, I go home and advocate how bad "famous fish and chips" is!  Do not underestimate the power of people, this is how reputation creates.  Sure, you are a chain restaurant and it was late, it was evident that staff could not wait to go home.  I am just disappointed!!!!!
Good night!
P.S.  Let's just look back 2016.
My highest point : Winning "Not just another food blogger awards 2016" by the hungryhouse.
My lowest point : Brexit + death of Prince
See you soon!