Lowlander Grand Cafe, Covent Garden, London, WC2B5RR, 20 January 2017
Happy Friday, here we are again at our lovely European touch of Lowlander Grand Cafe in covent-garden in multicultural cosmopolitan London.  Tonight is the Fish and Chips revenge night, I am hoping that I would not repeat my previous disappointment.
"Consistency" is always one of my focus when rating Fish and Chips.  I hope, on this occasion, there is no consistency as I do not wish to repeat my last experience.  Here we go again, BEER-BATTERED COD AND CHIPS with mushy peas, home-made tartare sauce and Double Dutch fries £13.45.  We are paying premium for the setting and location.
Fish 2/10.  I am afraid there was a consistency… consistently disappointed.  So greasy the oil was dripping as we were eating, I had to remove all batter in the end.  Sure, fish was good quality and cooked throughout.  However, without having crunchy batter integrated with the moist flavoursome fish, it is not longer fish as a part of fish and chips (make sense?).
Chips 9/10 Hooray to Double Dutch Fries, slightly pre-salted which enhances sweetness of potatoes, great texture as well as flavours, well done.
Mushy peas : sorry folks, cannot recall.  We were to busy criticising fish.
Overall 5/10 for food…. how disappointing.  I will go back for beers but not for fish and chips.  It was not worth paying premium of £13.50.
Even more shocking thing was that I found next morning a few oil drops on my new dress…DAMMIT!!!!!!
BTW, if any of you wondered what was on my head… check this out!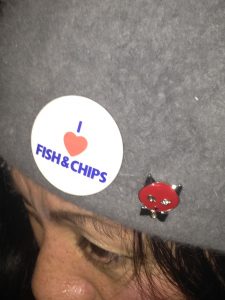 My Fish and chips journey continues, good night!