Lowlander Grand Cafe, Covent Garden, London, WC2B 5RR, 12 November 2016
Good evening, soggy Saturday.  But I am happy, with a pint on my hand in the lovely Lowlander at Covent Garden, feeling very Euro/continental/trendy and young.
Great food menu too, but I am going for of course, Fish and Chips, viva British! This is all about  London! Celebration of multiculturalism. British foods and Euro beers ate by person from far east.
"Beer-Battered Cod and Chips £13.45 with mushy peas, home-made tartare sauce and Double Dutch fries", a bit of Euro touch here, why Dutch?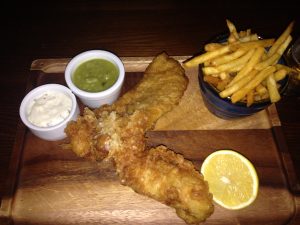 1. Fish 5/10 Ah, shame… Great quality fish, for sure, but too under done.  I am fine with raw-ish fish (my ethnic origin explains) but Fish in the Fish and Chips context, fish should not be under cooked.  Otherwise with marriage with crunchy golden batter is disaster.  Also, as I was eating, grease from batter + undercooked fish juice mixed in the wooden plate, getting very soggy towards the end.  Not pleasant.  This could have been alleviated by serving on a fancy paper, I actually experienced it in elsewhere, which was, I recall, impressive.
2. Chips 5/10.  Ah shame too. It is not chips, but Dutch fries.  Why confuse us? Chips ≠ Fries.  Furthermore, This Dutch chips were cooked too much (?double cooked), they were too hard!
3. Mushy peas 6/10, Tinned mushy peas but added mint! Nice ones!
Overall 6/10, a bit disappointed with Lowlander I must say. I will go back there but unlikely order Fish and Chips again.
Good night!