St. Christopher's Inn, London Bridge, London, SE1 1NP, 28 October 2016
Hello! It is Friday night, fish and chips nite! We are back at St. Christopher's Inn, London Bridge.  I am experiencing déjà vu.  Same friends, same place, same time, same dinner, same topic (having a moan re: Brexit, yes we are all proud remoaners)… but it's good fun!
Fish 9/10: Delicious!  Much improvement from the last time, I am sure you took my feed back on board! Fish perfectly cooked, firm but not dry, integrated very well with crunchy but steamy simple batter, giving perfect texture in the mouth.  The freshness and succulence were there until the last bite.
Chips 9/10 : Delicious! Yes it is slightly seasoned with salt, do not need to add any extra.  Better texture (more crunchy outside, fluffy inside) than the last time.  Definitely bigger portion than the last time which gave me a massive satisfaction.
Mashy peas : mediocre. 4/10.  Straight from tin into stainless steel cup. This gave funny "aluminium" tastes which is very unpleasant.  This can easily be avoided by serving into a ceramic cup.
It was great effort!  Thank you Chef!!
Additional…..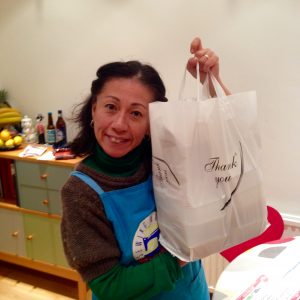 Thank you Hungryhouse, I got curry with my prize money of being crowned for "Not Just Another Food Blogger Awards 2016″.  If you missed this impressive prize I awarded, please read original awarding article in here!