The Blackfriar, Blackfriars, London EC4V 4EG, 7 April 2018
Good evening!  I reflected recently that I don't eat fish and chips often enough, but hey,  I had one again at The Blackfriar, opposite of Blackfriars station.
My standard fish and chips, cod fillet hand-battered in Nicholson's Pale Ale and served with chips, samphire tartare sauce an mushy peas are £13.25, not cheap, but what caught my eyes is the "Ocean Fish and Chips £15.50!!!!! Which apparently contains mixture of cod fillets and breaded whole tail Whitby Scampi.
This brought back my memory back in November 2014 in The Red Lion in Hythe, Kent.  I was served Fish & Chips Platter £13.50, which contained cod, scampi and fish cake, piled on the plate, was not impressive.  Love my fish and chips diary, enable for me to look back experience precisely.
So, of course, I reflect on my experience, went for simple fish and chips.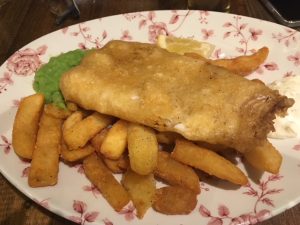 1. Fish 3/10.  Too greasy, I suspect it was cooked in lowish temperature and oil was not drained properly before serving, hence oil smell on arrival.  Furthermore, far too thick batter soaked all oil.  Quite frankly I could not eat them.  Fish itself was nice and fresh but skin was off.  As I have to scrape flesh from thick oily batter, there was no enjoyment of mix texture of crunchy batter and flavour of hot juicy fish.
2. Chips 6/10.  Well cooked, but standard frozen pub chips.
3. Mushy peas 4/10  Again standard, straight from the tin, no fuss whatsoever.
A disappointing £13.50, I will not eat in here again.
Good night!