The Fellow, Kings Cross, London, N1 9AA, 9 May 2019
Good evening, refreshing spring evening, we jumped into The Fellow, Kings Cross at 9:55pm, thirsty, hungry and desperate.  We then told the kitchen will be closed dead on 10pm, absolutely no flexibility.  By then, it was 9:56pm.  4 MINUTES LEFT TO ORDER.   Of course, Fish and chips without seeing the menu, even before order the pint.  Made it, before 10pm!
Then, I studied the menu (food already ordered), Young's beer-battered cod, triple-cooked chips, mushy peas, pickled onion, chili vinegar 15.5….! 15.5! Shocking.
Also, reading menu was such a hard work, these wordy description of fish and chips in tiny old fashioned typeface in the very dark pub, is this to disguise the unreasonable pricing?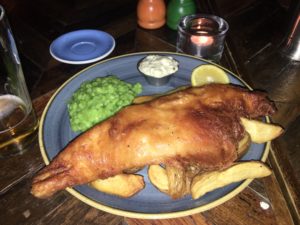 Fish  7/10 : It was so dark, very difficult to see the foods.  I knew batter felt really hard, only now I know from the above photo that it was overcooked.  Fish was fresh but yes, slightly overcooked so dry.  But good position size.
Chips 10/10  : Totally impressive.  Chunky chips are definitely cooked from scratch, so hot and mouth watering, very satisfactory carbohydrate loading!  Skin on, vitamin C well preserved!
Mushy peas 9/10 : Delicious, minty, buttery and a lot of it! Love them!  This is a very good example of how to make healthy vegetables into calorific unhealthy side dish.
Overall good food, shame it was expensive and too dark to see them.  With the mediocre served beer, I don't think I will be back, but thank you for not turn down the last minutes order!!!
Cheers!