The Queens Arms, London, SW1V 1QT, 17th January 2014
Yey!!!! Friday night, The Queens Arms. Nothing better than crunching my thirst with cold lager with fish and chips.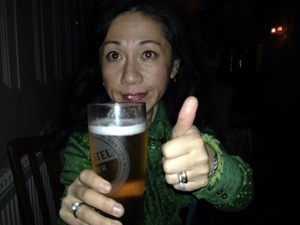 Amstel is one of my favourite.  Noticed quality so varied between different pubs, often too flat, this one, I score 9/10, perfect temperature to crunch my thirst, well done!
 Expectation rising after being served excellent beer!!
Mmmm.. my verdict.
1.  Stingy portion for £13 ..
2.  Fish : Batter is nice and crunchy but fish is watery… there is a massive difference between juicy and watery
3. Chips : Excellent!  Strong taste of potato, medium thickness , this is probably all made from scratch.  Well done
4. Peas : This should be mushy pea!!! Soooo disappointing.  Straight from frozen, no creativity whatever
Over all…. 5/10.
Would go back for drinks, but not for a fish and chips, I expect better than this for £13 , Sorry folks!