The Tally Ho, North Finchley, London N12 0BP, 5 March 2022
Yo, I am craving for a fish and chips – so here we are at the Tally Ho, North Finchley.
Great price – amazing in fact, considering the current cost of living crisis – then at the time ordering, we were informed this is now not cod but POLLOCK. Pollock is of course known for a cheaper alternative to the cod – well at least we were informed.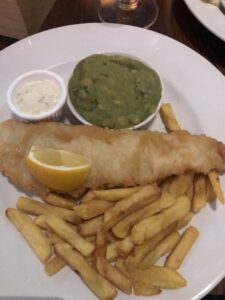 Fish – 2/10 If I am being honest, fish itself is actually absolutely fine – I have no issue with Pollock – however execution is extremly poor – batter is pale – felt undercooked, soggy, too thick
Chips 2/10 Each piece of chips is small, and reminds me "edge" – slightly soggy and cold and the portion is small
Mushy peas – 2/10 When I took the first bite, I was not sure what to make of them – the texture is mushy- but there is no "intention" but almost like they became mushy by mistake – some bitter taste not sure where this come from…
Over all 2/10 – but what can I say? we ordered 2 fish and chips – unlike showing the menu (£8.49) it was £7.49 per dish. Then they gave us discount of £5.49 for buying 2. This make it £4.75 per dish….
Lesson learnt, when I crave for a fish and chips, I won't come here – but fully acknowledge that they do what they have to do to accommodate challenges the hospitality sector facing at moment and for the foreseeable future.
Good night!