The BLACK HORSE, Barnet, Hertfordshire, EN5 4BW, 3 June 2016
I am soooo happy. I never have felt so motivated and rewarded throughout my academic + professional career (are there?).  Just in case you have missed the important announcement, I just won the Not Just Another Food Blogger Awards 2016 by the hungryhouse! Hooray!!!!
Mina and the team are celebrating this achievement in style with Fish and Chips at The Black Horse, Barnet, EN5 4BW.  This is also a team bonding event.
One of my friend from OZ recently told me that nobody drinks Fosters in Australia. She said it is a drink for chuv. Is this true?
£11.95 is not bad for a posher suburb. When I saw Skin on chips, I read Skin on cod, of course, I was over excited for 2 seconds.
However, a big however,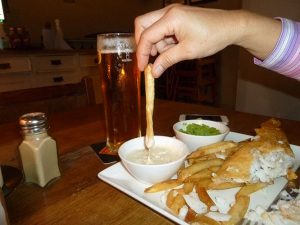 In my country, when foods drip as this sort of sticky, "drawn yarn" often means gone off (or fermented).  It tasted horribly, unnaturally, sharply and excessively sour.  Very strange texture.  Quite frankly, I could not tasted any more than 3 tries.
Fish: 5/10.  Piping hot but regrettably too greasy batter, all you need is to rest 1 more minute on the draining paper.  Fish was ever so slightly undercooked.
Chips: 4/10.  Nothing special frozen chips but not hot enough.  I suspect chips are cooked in big batch for other menu items (e.g., burger and chips, chicken skewers and chips like my next table).  My chips must have been cooked too long before my fish cooked.  The difference of temperature on those was too much.
Peas: 6/10 Nicest of all when I had in my mouth at first.  Nice green colour too.  It was smoothly mashed and buttery.   However, it was not minty or crushed.  For the discrepancy with the menu description, I cannot award more points.
Overall, disappointing 3/10.  I have to deduct a lot of points for suspected gone off unnaturally, sharply and sour tartar sauce.
A bit disaster for our celebration + team bonding evening.
BTW.
£4.50…I knew I will be out tonight for Fish and Chips, I knew it may cost me as much as 3 times more.  Fish and Chips should not be priced as much in any circumstance and location. As a dish, how much more extra value could you add this simple but gorgeous dish?  I have experienced disastrous over twisting such as tarragon in batter.
However, price will continuously hike as long as an idiot like me continuously paying for it…..