The Founder's Arms, near Tate Modern, London SE1 9JH, 01 May 2022
I want eat good Fish and chips!  How about in here?!?  We are at the Founder's Arms, near Tate Modern.  I was here not long ago.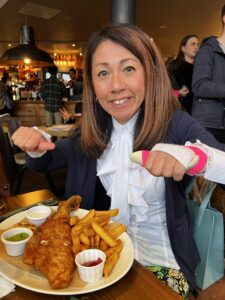 Great first impression after a few recent disappointment.  But not completely thumbs up – as we are paying £19.00!!!!!   In November we paid £17.50.  8% up in 5 months.  But the world has changed since.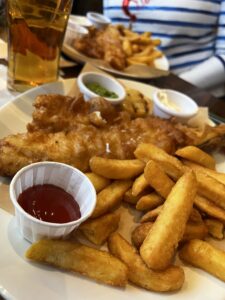 Fish 8/10 –  Big, thick flesh, cooked well but not dried, juicy – enjoyed every mouthful juicy flesh and crunchy batter married in my mouth
Chips 8/10 – Again, well cooked, seasoned well with simple salt.  Great portion.  Crunchy outside, fluffy inside
Mushy peas 6/10 – nothing special but I could do more
Phew – after a few disappointment, I was left satisfied – but but – £19, I do understand challenges of hospitality sector – this is survival.  As a customer, we have to ask ourselves – what price we are happy to pay? What are we looking for?  I probably will be happy with smaller portion, lower price but good execution.
I will continue eating fish and chips – then I will keep asking above questions to myself,
Good night!