The Founder's Arms, near Tate Modern, London SE1 9JH, 30 November 2021
Something exciting about being out on a school night, we are here at The Founder's Arms, near Tate modern, over looking St. Pauls cathedral on Tuesday night.  Omicron variant looming above our head, the possibility of NOT able to go ahead with Christmas party is becoming real prospect for the nation. However, tonight, the pub is heaving.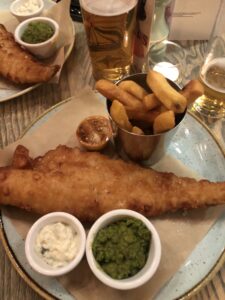 Fish 6/10 : Simple beer battered, well cooked and seasoned simply with salt which was perfect to my taste.  Simple salt brings the flavour of the batter and cod.  Thickness of the flesh is also felt rich enough but not too much.  This piece of fish could rest in a basket for a few more minutes to drain excess oil before serving.  The paper showing here was covered by oil.  Shame as the should be crunchy texture of the batter at the bottom side of the fish was completely lost.
Chips 5/10 : Well seasoned but mediocre, but the biggest criticism here is the portion size… literally 10 chips here.  Not enough!
 Mushy pea : 5/1o:  Again mediocre, not enough
Yes, it's along Thames, overlooking St. Pauls, and it was a table service, I guess we should accept £17.50 is probably the price we have to pay.  Still, it would be great if you could give us a bit more chips for £17.50!
Good night!