Fish Fish, Highgate, London, N6 5BA, 12 May 2017
Hello Hello Hello!  I am finally here at "Fish Fish" in Highgate.  Finally, because I always wanted to be here, living in London for many years, drove past this venue for many many times, the name "Fish Fish" is simple and clearly suggestive, how can I ignore, after all, I am the fish and chips critic.
As you can see, a lots of signs advocating great value.  However, the restaurant was totally empty on Friday night approx 8pm…. is this OK?
Fish and chips "£ According to fish market"….. then I was told it is £14.95…. Take away £7.95… I had to ask, then confirmed they are the same dishes.
This is not according to fish market, it is according to "rent of the premises market".
Fish and Chips is "deep-fried in low cholesterol vegetable oil", ok, at least not so high risk to develop heart diseases after consumption of this meal.  Great.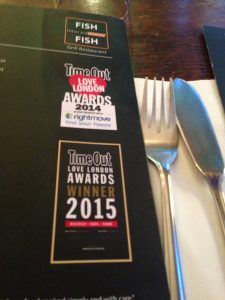 OK, I got it.  You received award in 2014 and 2015.  Yes it is great achievement but here we are in 2017.  If Gordon Ramsey sees this, he would rip it apart,  "Don't hang on to the past glory!!!".  Ah, hang on the minutes, I am also hang on to the past glory, my important award winning!!  Then this is not even a year ago so it is perfectly ok for me to do it!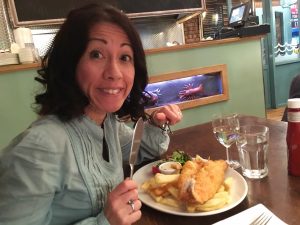 Fish 8/10.  Delicious.  Fluffy and fresh fish and batter is crunchy, very clean batter, indeed, this must be cooked in clean vegetable oil, definitely.
Chips 6/10.  It's ok….yes, crunchy and clean but may be cheap standard "white potatoes"?  Flavour missing.
No mushy peas, but I must say salad was tasty, perfectly dressed in vinaigrette style dressing.
Overall satisfactory 7/10.  Then, what would you expect if you pay for £14.95 for fish and chips, it should be nice.
The restaurant was almost empty all night.  However, there were stream of take away went out the door, drivers were constantly picking up foods for delivery.  There was not a single person came in to order takeaway nor phone rang for ordering take away while we were there.  These orders must all came via internet.  Wow, this fact somehow impressed me.  There were very little footfall on this street, they have found survival tool.  Fantastic, I can understand why you charge me £14.95 to eat in.
The restaurant does not even have own website.  I typed in "Fish Fish Highgate" in Google, wow, every possible takeaway sites you can think of came up, listing Fish Fish, waiting for orders to be placed.
I wish you well Fish Fish, you are surviving this take away war in London.  Good night!