Glastonbury Festival, Worthy Farm, Pilton, Somerset, 25 June 2017
Hello Glasto!!!! I have previously conducted 'Spot the Fish and Chips Challenge' in the Glastonbury Festival 2015 but never had an opportunity to sample them as I was drawn in by the other types of festival foods (shame on me!).  But this year is different.
I wasn't sure if critic is relevant for 'temporary' festival setting. Then, there are so many repeaters to this festival for both festival goers and stool holders.  So yes, it is relevant.  Here we are at the Other Stage, the stall is situated, facing stage, right hand side.
First challenge, take photos in a massive crowd.
Challenge 2: Queue !!!! ages and ages to get served.  Then, while we were queuing, we were listening to the live performance by Rag 'n' Bone Man, cannot complain!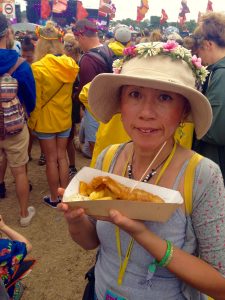 Finally, my fish and chips.  Surprisingly delicious.  Worth queuing as foods are freshly cooked. Tartar source was delicious too.   Shame that my portion of chips was tiny for £8.  Portion size of chips is probably the last thing on the stall holder's mind, all the staff looked pretty stressed with constant flow of orders.  While I was eating, I was asked by one of the public where I got this from.  She must knew I am Fish and Chips critic! Don't be shy, just tell me!
What a fantastic summer days we had, nothing can compare Glasto.  Thanks Glasto, we had a Blasto! (as quoted in Metro)
I will certainly back 2019, to sample more fish and chips at Glastonbury!!!  Thank you!!!!!