The Perseverance, Bloomsbury London WC1N 3NB, 2 December 2017
Festive season officially begins! Good evening from The Perseverance, Bloomsbury near Holborn and Russell Square.  We are celebrating the start of festive season in style, with the proud national cuisine, Fish and Chips.
Bloomsbury IPA battered cod, chips, tartar sauce £13.  This is normal price for the central London, yes, I accept.  I don't have to take time to decide what to have but others are wondering what to have from their simple but all pub essentials contained menu.
I just heard one of my peer decisively said "I am going to have fish and chips, I am on diet, it has to be fish, isn't it!!!" oh, ok….. you are on diet….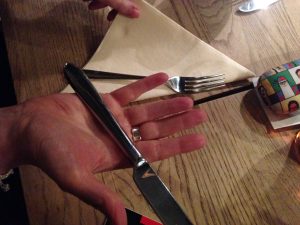 Heavy cutlery and thick paper napkin noticed by her, true, it is certainly a good sign,  it shows pride and care, nice touch!
Some said the paper is  on the plate is a bit naff, but majority agreed it is serving a purpose of removing excess oil. I have seen this before and indeed, it fulfilled its purpose.
Fish 7/10 . The fish was very fresh, no doubt.  I was on about fish skin then one of my peers questioning if ever, served without skin.  I agree, it should not be but I have seen without, which is absolute NO NO.  Anyway, it was ever so slightly overcooked (shame as fish was fresh) which takes edge of juiciness away.  Also ever so slightly greasy on batter, the paper on the plate was not doing anything! Also no sign of "IPA battered" in terms of flavour.
2. Chips 8/10.  Hot heart warming chips, I have a good feeling this is hand cut chips.  Hot, well cooked, simple chips.
3. Mashy Peas 4/10.  Straight from the tin.  No wonder it was not mentioned on the menu.  Shame as you can do a lot with mashy peas especially you are charging £13 for the whole dish.  You do need to go an extra mile to add a value to the dish.
Overall respectable 7/10,  my stomach was once again, warm and filled with joy.  In this cold, dump and dark winter, fish and chips is a true shining star, boding friends together.
Good night!