The Highbury Barn, Highbury, London, N5 2AB, 17 November 2017
Nothing compare to a cold pint of beer to cheer up dark evenings, we are here at The Highbury Barn, N5 2AB, very short and pleasant walk from hustling and bustling Highbury corner.
Beer battered haddock, hand cut chips, mushy peas and tartare sauce £13.50, high end price at a quiet, village feel pub.  Brexit inflation +/- location (zone 2, may be a bit stretch to justify)?  But what is cheap? Nothing is cheap any more.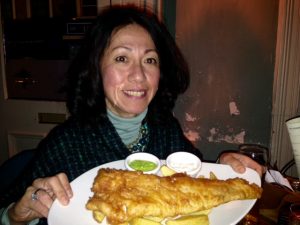 Big smile on my face, steamy Fish and chips arrived just in a good time (from the order to the table), Gigantic fish, this is what I like!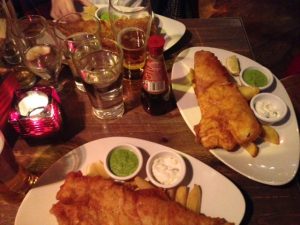 Three of us having Fish and chips, all equally look good, not one is bigger than other, not one looks over cooked/under cooked in the first sight, fantastic consistency.
Fish 8/10 Delicious, juicy flesh and flavour of fresh fish c0ming from skin (tasty!) and flesh.  Absolutely mouth watering.  Ever so slightly under done and batter a bit too heavy for my liking and ever so slightly soggy side.
Chips 7/10 Already slightly salted which is such a nice touch (I successfully stopped my peer to sprinkle salt before she tasted).   Perfectly salted therefore brought sweetness of potatoes.  Could be a bit cruncher outside, but inside was nice and fluffy.  I am questioning though, are they handout?? Looked too uniformy.
Peas – too busy chatting could not recall
Overall impressive 7/10.  It was cold and dark evening, but my stomach felt warm and it made me really happy.  Conversation fIew, chatting about fish and chips.  I have not had a fish and chips for 8 weeks.  This fish and chips reaffirm my passion and love to Fish and chips, throughly enjoyed the experience.
Love fish and chips!!!! Good night!!!!