The Riverfront, BFI Southbank, London, SE18XT, 3 March 2016
Good evening all!  It has been over 3 months since I had my last fish and chips.  I have been having rest from it, to give a rest to my palate.  So that I can continue to be a reliable critic.  The Riverfront, here is the important place for me, the birth place of Fish and Chip critic, as I explained before.
I am smiling but when I saw this pint, I knew it is sub-optimal pint.  Just looks flat and it tasted flat.  I had this experience before in here.  Very disappointing.  To be fair, the second pint was perfect.  For not be able to provide the important consistency, 5/10.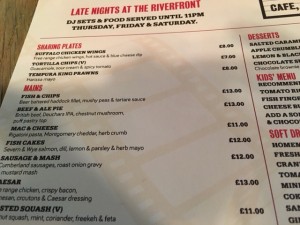 FISH & CHIPS, Beer battered haddock fillet, mushy peas & tartare sauce, £13.oo.  Same price as 14 months ago, nice of you, not reflecting inflation but still not cheap!!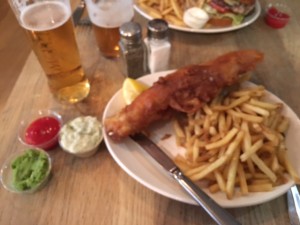 So I moved ketchup, tartar sauce, mushy peas from the dish.  Still too small for the amount of the food.
FISH 7/10.  No skin! why! Any fish eating nation knows skin (descaled!) is tasty part of fish.  Though it was firm yet juicy.
Chips. 0/0  Because they are not chips, these are french fries.  I had similar experience before at elsewhere.  I can now assure you that fish and french fries are not same as fish and chips we know. French fries are so much thinner, which means larger surface area make them so much greasier experience as a whole dish.  Not a fan.
Mushy peas 0/10.  The worst mushy peas ever.  To start with, served tiny amount in a plastic cup.  This was almost hard, strange vinegary after taste.  Very strange taste.  Yak!
You may think why I go back same place again.  But tonight proved that even in the same place, food changes (including presentation) periodically.  I will also look at consistency too.   Overall 4/10 (lost points  due to no rating on chips and terrible mushy peas), previously scored overall 6/10 (Oct 14).  I gave you  enough areas to work on!
My journey continues, Good night!