Matthew's Kitchen Seafood Restaurant, Crouch End, N8 8PL, 26 May 2018
Hello! What a lovely evening, we did not have spring but we are having amazing early summer here in Crouch End.  Visiting the Matthew's Kitchen Seafood Restaurant with my peer's strong recommendation.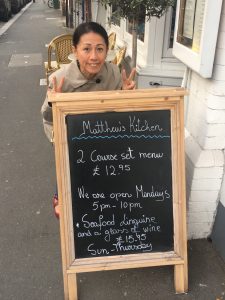 Bargain! £12.95 for 2 courses of proper food.  I pick "Fish & Shellfish soup, drizzled olive oil, croutons" for the starter, and for the main, of course "Beer-battered haddock, hand-cut chips, garden peas, tartare sauce".
Fish 7/10.  Fresh fish cooked well but ever so slightly overcooked therefore dry.  Batter was very yellow, not sure where this colour came from. But not greasy at all, crunch and hot! Great texture.
Chips 9/10 Great chips, definitely hand cut.  Nice and short, good mouthful size
Pea 5/10 Nothing wrong, but garden peas.
Overall (including starter) great food 7/10, I was also checking what others were eating, all looks well impressive.  I cannot wait to come back.  I will eat every single one of items on this set menu.  Now even think about it, I just want to be there!  Thank you Matthew!!!! (did not meet him this time).