The Duke of Sussex, Waterloo, London SE1 7AY, 11 May 2018
I am back here at The Duke of Sussex, Waterloo, following the successful recent visit.
I used to get shocked by the price, for example, I felt almost unforgivable paying £13.00 back in 2014. Since then, so much happening (including Brexit related inflation), I am not surprised by £13.50 anymore.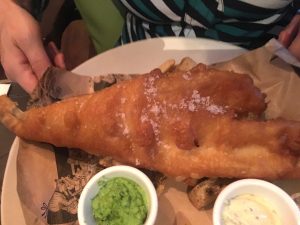 Fish 8/10, batter well integrated with thick and juicy fish, salt flakes absolutely unnecessary.
Chips 8/10 Lovely, definitely handout! steamy hot, crunchy outside, fluffy inside. Could do a few more of those
Pea 6/10 this is not pea puree, puree should be smooth without bits, taste ok but discrepancy with the menu.
Great job again, for the consistency overall impressive 8/10. I will be back. Good night!