The Mill Inn, Aldeburgh, Suffolk, IP15 5BJ, 28 March 2014
Hello from Suffolk, the territory of the ADNAMS. Southwold.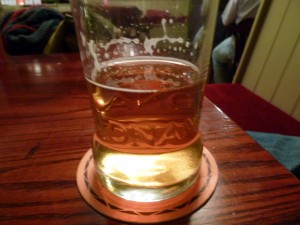 But has ADNAMS glass, COOL!
My verdict.
1. Fish 7/10.  Good effort, but quite frankly, I cannot tell what is the distinctive feature in taste of  being "ADNAMS batter".  Fish is firm and well,  but started to feel a bit tasteless towards the end.
2. Chips 8/10.  Not sure if this is frozen or home made.  Who cares, it was well executed hot crunchy chip!!!
3. Peas.  5/10.  Mushy, rather than puree.  I could not taste mint but very buttery. Butter is a funny thing, it can be overwhelming.  In this case, I enjoyed first 2 mouthful then started feel too much butter, unable to finish.  Also needed a bit moisture as it felt "hard mash".
Overall score though generous 7/10.  Some sea salt was already sprinkled when served, thought it was nice touch.I did not have to add any salt, for my taste, it was perfect.    What a found in this peaceful pretty Aldeburgh!!!
A bit sideways….  my starter prior to fish and chips….