The Riverfront at BFI, South Bank, London, SE1 8XT, 5 August 2016
Good evening, a perfect summer evening, and conveniently it is Friday, strolling along Thames.   We found ourselves at The Riverfront, Southbank, London.  It is Fish and chips'o clock at BFI.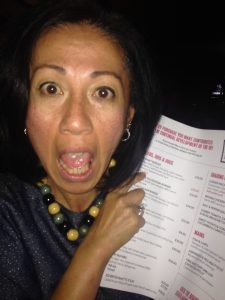 Menu reads, "FISH & CHIPS, Tarragon & cider battered haddock served with chips, mushy peas and tartar sauce £14.00"  Fourteen pounds!!!! I repeat eye watering fourteen pounds!!!
Yes, we are sitting outside on the terrace in front of Thames.  But the table is nothing more than garden furniture from B&Q.  No cushions on these B&Q chairs and no white linen tablecloth to be seen.  This place is categorically a cafe, not a restaurant.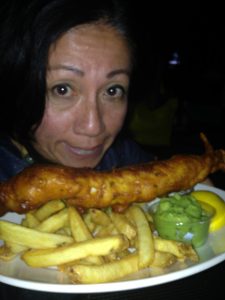 Still, it did not stop making me smile.  I find hard to describe the excitement when the Fish and chips is brought in front of me.  It is a mixture of pure joy from my hunger, huge expectation and a sharp critical thinking.
Fish 6/10 : Juicy fish (without skin, -1 point), flavoursome, perfectly cooked.  Batter was hot and crunchy not too greasy.  However, ever so slightly too thick, borderline gooey. Batter was dark brown but it was not overcooked.  My previous theory was that Ale battered fish may show dark colour but I was not aware if it does same for cider batter.  And, I can actually taste tarragon in the batter. This gave it a bit of exotic twist (sort of hint of curry like), but I cannot deny that as I was eating more and more, this "a bit of exotic twist" became somehow "annoying unnecessary addition".  Shame!
Chips 7/10: At first, our opinion was divided between freshly cooked or frozen.  I reckon it is freshly cooked.  Simple, tasty, not greasy.  This is what is all about!
Mushy peas 5/5 : mediocre mushy peas served in a plastic cup.
Perfectly pleasant fish and chips, but I don't know if it can justify £14.  This must be a Brexit related inflation.  Fxxx, Brexit, make all of us poor as experts predicted!!!!
Good night!