Peter's Fish Factory, Ramsgate, East Kent, CT11 8LP, 1 May 2016
Special Bank Holiday report from Fish and Chips critic, from Sunny Kent coast, Uuuuuu, exciting!
We walked from Margate, Broadstairs then to Ramsgate, all the way via beautiful coast line, it was impressive just over 14km!!!!  We obviously deserve our 1,000kcal lunch.
After patiently queuing for 15 minutes, we were close to the ordering counter.
Staff were all working tirelessly, handling very stressful situation very well.   Keep smiling, apologising all for waiting.  All queuing customers were also behaving well.  This must be the bank holiday effect, impressive!
My head was panicking with hunger, I can't tell you exact price, but we paid just over £8 for 2 small fishes (but easily medium in pubs) and 1 large chips.  It felt expensive side.  But I must say,
 Fish 8/10.  Delicious! Batter well integrated to the chunky juicy cod, so shame you took skin off.  Colour between yellow and gold, crunchy but not greasy.  Steamy hot but oil well drained.  How did they manage while having streaming orders.  Amazing!
Chips 8/10 Again, not too greasy.  I often find chips from chippie can be too greasy, but this wasn't.
In pubs, "beer battered" is usually one of the selling points, along with "line caught" "sustainable" blah blah blah.  Today, my experience raise a question, is it necessary to be beer battered?  What makes it so special?  Does it make colour slightly darker? What is the significance?  This gives me an another direction in critic.
10 minutes later…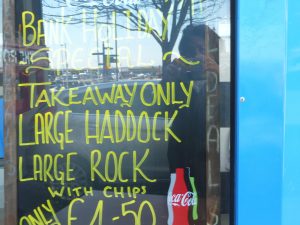 Large fish and chips take away for £4.50….. no queues.  Some diners in the shop.
If we were there for one more day, I would definitely try, then I could, compare and contrast for famous vs infamous.
Anyway, this is an another direction too.  Watch the space!