St. Christopher's Inn, London Bridge, London, SE1 1NP, 16 September 2016
Good evening, it has been a while.  This is retrospectively written Fish and Chips critic but trust me! I do remember things clearly even after over 2 weeks.  This is because I had a heated opinion exchanges on taste with my peers who temporarily turned into Fish and Chips critics at St. Christopher's Inn, London Bridge.
Fish and chips £11.50.  This is it!  With, again, simple description of "Freshly battered cod with fresh hund-cut chips".  Simple is the best, especially oldies like us who find difficult to follow small printing in dark light.
Fish  6/10 : This was where our discussion mainly happened.  We all agreed as "lovely" at the start, crunchy batter, skin on fish yey!  Then I felt as I eating through (over half way), it started to lost the spark.  Fish first felt moist and succulence was turning into just 'watery'.  Flavour no longer there but taste of slightly greasy batter.
Chips 9/10 : Wow, they were delicious.  What makes it so special was already seasoned with salt and this was perfect.  Just salty enough to bring the sweetness of potatoes, at first it may be subtle but as I eating more of them saltiness did not get too salty but became just right.  I was so impressed, I started to eating slowly as I did not want them to end.  Only slight negative was that they were not so crunchy outside.
Mushy peas : Cannot recall
I go back now to eat those chips.  Shame about fish, then, I found,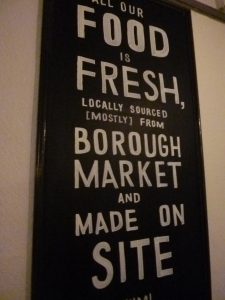 Food is fresh locally sourced (mostly)…  Oh I love your honesty, may be fish travelled somewhere far called "industrial freezer".
I will be back for chips + beer, and big credit to your honesty!
Good night!