The Old White Lion, East Finchley, London, N2 0NW, 13 August 2015
Hello my fans, long time no report.  I had a mass craving, yes it was Thursday, a school night but here were are at The Old White Lion.

I absolutely love white baits.  This was £4.75, it was plenty.  I wish more pubs serve this.  I would be the number 1 critic.  I love this simple deep fry, not thickly breaded + deep fried, then beautiful fishy taste is usually disguised.  I guess a lots of people prefer to be disguised.  I come from the country where eating fish deeply rooting the nation.  I absolutely enjoy every bite, from heads to tails, they taste so nutritious, come on Calcium!!!!
No let's move on to the original subject, Fish and Chips.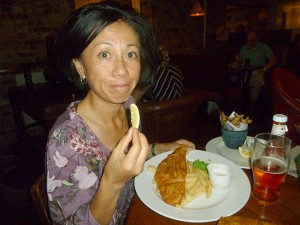 Sorry my fans…. it has been over 2 weeks, I have sort of forgotten.  May be due to the excitement of white baits.
No rate today I am afraid.  I remember that I was not too impressed.  I also remember saying "I forgot how to rate them".  I have declared myself being "subjective critic" when I started this blog.  Despite, I am reasonable enough not to make up rating.
More critic to follow, with rating! Good night!