The Sir Richard Steel, Haverstock Hill, London, NW3 4RL, 9 July 2020
Yoyoyo! I am keen to contribute to the much needed economic activity, therefore, we are here tonight at The Sir Richard Steel, Haverstock Hill.  Table booked, cannot wait for fresh pint and fish and chips!
Fantastic pub but empty….though again, just 2 of us, they gave us probably the best table in the house.
BUT THE BIG BUT…AHHHHHH…no fish and chips on the menu…. WHY.. there is a good reason.  The friendly pub landlord told us…
Nice touch!  So after careful consideration, we went for burger and chips, another classic.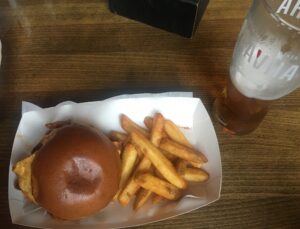 The polite smile was not because the paper plate but the amount of chips they gave me… literally there were only about 8 chips…… you should give me at least 3 times more (i.e,, 24 chips) for £12.95.  I am not burger critic so my comment ends here…..
Beer was lovely, but for the very very  stingy chips portion, I won't eat in here again, but I will come back for beer then fish and chips next door.
I binged chocolate after I went home, I was left too hungry with 8 chips.
Cheers!