Brew Wharf Yard at Vinopolis, London, SE1 9AD, 19 December 2014
Good evening, tonight is one of the most important Friday of the year, the Friday before Christmas.  You must go out and enjoy.  This is must.  Of course, I am doing this in style, Yey, good beer and fish and chips at Vinopolis Brew Wharf Yard in the trendy Borough market.
It is steep @£4.90 a pint but hey, this is Christmas!  Now, I forgot to take a photo of menu.  Then, we have of course internet, menu can be found here, yes, Fish and chips is here, "Beer Battered Fish & Triple Cooked Chips (Tartare Sauce, Mushy Peas & Dressed Salad) £13.95".  Wow, again, Vinopolis – STEEP!  This is actually the most expensive fish and chips I ever paid.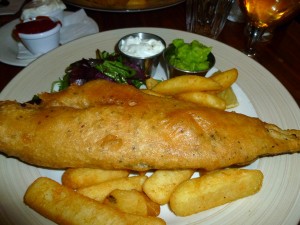 When I saw the batter, I had a bad feeling.  I saw this type of batter before.  I could imagine this will be gooey, chewy too thick batter with strange herbs on.  My peer pointed that it is very unusual to see salad on the plate.   This is true.  This is may be £13.95 touch.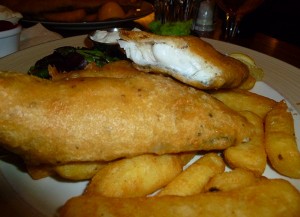 1. Fish 9/10.  Ah, how could I be so wrong.  Batter was thin, crunchy, integrated well with this succulent, fresh, perfectly cooked and well moist fish. Not a hint of "gooeyness".
2. Chips 8/10 Yes this is definitely triple cooked, piping hot, well accompanied with our gorgeous fish.   Slightly too thick for my liking.
3. Pea 6/10.  I am sure this is made from scratch but will be better with hint of mint or butter.  Slightly disappointed, obviously not a great focus given by chefs.
Overall fantastic 8/10, though I should not expect anything less for £13.95.  I am not sure if you can justify paying £13.95 for fish and chips in categorically "a pub" (but posh one).  I will leave this judgement to you my fans!  Opinion welcome!.