Fish and chips on the sea, Hastings, East Sussex, 30 November 2014
Good afternoon from Sunny Hastings.  Here we are, doing right thing, yey, Fish and Chips on the sea.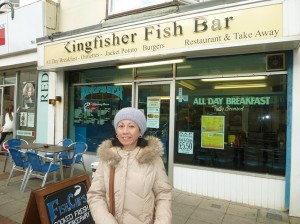 It was delicious. They were cooked in front of my eyes.  Plenty of autumn sunshine, and light sea breeze , just a bit annoyed by seagulls though I accept they are part of the package.
I want to take this opportunity to announce my intention.
I will not make a comment/be a critic on chippy.  They are beyond my scope.  Simply, there are too many of them!!!
I am continuously searching for my best fish and chip using my SUBJECTIVE opinion.
Please be with my journey, thank you my fans!