FOUNDERS ARMS, Bankside, London SE1 9JH, 25 February 2015
Good evening, here I am again, having a pint and fish and chips at FOUNDERS ARMS, SE1 9JH, over looking St. Paul's Cathedral.  This is a lovely evening, catching up friends from my country.
This London Lager by MEANTIME brewery  is so popular, my (reliable but subjective) statistics tells me 7/10 London pubs serve their beers.  Good though, the rarity is rapidly disappearing.
Fish and chips please! Fish & chips young's beer battered haddock fillet, mushy peas, tatare sauce £12.5.  I don't mind paying this for the location.
BTW, I have been eating a lot of fish and chips recently  (as you would do as a critic), accumulating saturated fat.  I am slightly worried.  I saw a food critic featured in the Master Chef very recently on the tube.  He (I don't say who) sat in front of me.  I love seeing famous people.  Naturally, I gave very good look.  He does not look that big on telly but I eyeball examination concluded that he must be at least BMI >38kg/m2 (very obese).  He was just about able to fit in the tube seat.  All because of wonderful foods he taste.  I must be careful.
Anyway, stop gossiping, this is not the purpose of my report.
Fish looks small and shape was unnatural, hard to explain and to see in this photo but looked  like frozen fish from box type shape.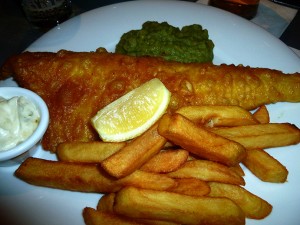 1. Fish: 7/10.  Better than it looks.  Oil was still dripping from batter, need only a few more minutes to drain on a paper.  I don't know how we suppose to taste "Young's beer batter".  Please somebody tell me!  Fish was very tasty and juicy.
2. Chips: 5/10.  Cooked from frozen.  Average of average
3. Peas 8/10, Oh what a surprise.  No minty twist or butter twist, nevertheless well seasoned.  No smell/hint of tin.  This is ace! Classic man!
Overall satisfactory 6/10,  unfortunately I won't be back specially for fish and chips at the Founders Arms for this score.  You should do better, even with this location you should still attract repeated locals for great foods.  Anyway great relief was that my peers from my country gave thumbs up.  They can be very hard bunch to please, I can tell you!
Good night!