Morpeth Arms, near Tate Britain, London, SW1P 4RW, 06 May 2022
I am eating fish and chips in unprecedented pace recently – I guess I cannot believe the rate of inflation affecting our fish and chips in various ways – yes of course, eye watering price rise but also eye watering 'portion shrinking'.   How about tonight?  Let's try Morpeth Arms, near Tate Britain.  Outside is heaving with people enjoying warm spring evening.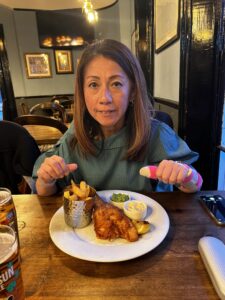 Beer battered cod, young's beer battered cod, triple cooked chips, mushy peas & tartar sauce – £19….. this is now standard.  Website states £17.50 today – Inflation progresses so quickly unable for the website to catch up!
My thumb are flat – first impression – small!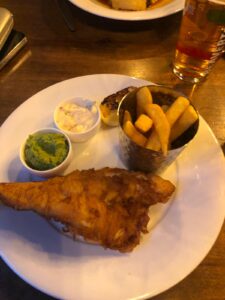 Fish 5/10 – Fairly thick flesh with skin on but small.  Lovely batter texture – but not seasoned well. Reminds me old time – salt pepper please by yourself! – but for me it's not good enough – chefs need to show us their palate
Chips 4/10 – Even in this photo you can see – not enough.  I counted.  There were 11 chips. Nothing special in itself too.
Mushy peas – 4/10 As chips, small portion and nothing special.
How hard it is for the hospitality sector – they need to survive but they need to please us.  Annually we spend £1.2 billion on fish and chips – even if we spend this much this year, due to shrinking portion we won't be satisfied.  Furthermore, 40% of fish we have for fish and chips is coming from Russia – what are we going to do?!?!?
Good night!!!