The Duke of Sussex, Waterloo, SE1 7AY, 14 August 2020
Good evening, I ventured out to the town by tube. Waterloo station area is getting busier but still down by 60% of pre-pandemic usual Friday night (subject to my observation). Table booked, we are here at the Duke of Sussex.
After chatting, chatting, chatting, chatting – now time to order foods – Beer battered fish & chips, tartar source, peas £15 – ohhh the last my visit here was May 2018, Fish and chips was £13.50 then. Inflation busting 11% increase (with VAT reduction) in just over 2 years. COVID related price hike – can be helped.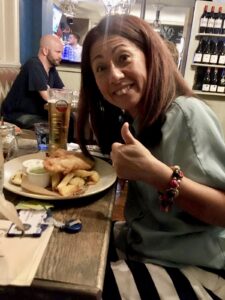 1. Fish: 7/10 : Fish flesh was cooked through but felt batter was slightly under cooked and greasy. Left slightly unpleasant texture in the mouth
2. Chips: 6/10: taste nice but far too thick, it was almost between chips and roast potatoes
3. Peas: 7/10: some hint of butter, lovely green colour gave great visual accent on the plate
The pub terrace was heaving, where we sit inside was busy but enough space in between tables, feeling completely safe – Just appreciate things we were doing before without any thoughts – sharing time with friends, eating, drinking, chatting – what a joy. Thank you for hosting all of us, we will be back.
Good night!