The Somers Town Coffee House, Kings Cross, London NW1 1HS, 3 December 2020
Yoyoyo post 2nd lock down, we should treat ourselves with fresh pints and fish and chips.  Here we are at the Somers Town Coffee House, Kings Cross, NW1 1HS.
Plenty of space, no problems on social distancing, staff not wearing masks.  It is so cold inside of this  pub so it's OK, COVID won't survive on this temperature (or does COVID thrive in the cold air? – too much information, too confused)
We tried so hard, but we were unable to read the menu, the printer simply need new ink.  The friendly waitress offered reading out for us, but we politely declined.  She suggested turning the candle away, which apparently makes it easier to read.  We could see fish and chips (but not full description nor price), so let's go for it!!!
We waited, waited we waited.  About 25 minutes later, the waitress came to our table with friendly smile and informed us there is only one fish and chips left.  So I took it.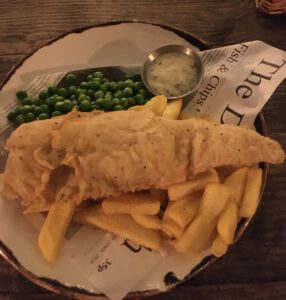 Another 20 minutes gone, finally my fish and chips arrived.  Batter was pale yellow and thick, it was not the texture I was expected.  Chips were nice and hot.
Yes, the fish and chips was not what I expected, yes, the temperature inside pub was probably below "optimum" (even our friendly waitress confessed she has been so cold working – of course, she does not take any action about the temperature), yes we were unable to read menu because of faded print out due to lacking in ink, yes we waited probably longer than average for our food…… but so what? I am not criticise our hard hit hospitality industry, I just wish all well, keep our head down, and survive.
See you soon!