BFI Riverfront, Southbank, Belvedere Road, Lambeth, London SE1 8XE, 25 August 2019
Amazing! London at its best with heat wave. What more can we expect? Lots of music, tango dance on the show, kids are running around along side of the fountain, lots of people spending time with friends and family, busy, but at the same time relaxing, hot! very hot! no need to worry about umbrella and bank holiday weekend…I can go on and on , how nice the atmosphere around here. Of course, I am also enjoying my bank holiday, let's celebrate with fish and chips at BFI Riverfront terrace.
I got annoyed with £13 fish and chips back in 2014, but now £13.50 feel absolutely normal, in fact, feels even cheap for the location, mind you, it is 2019….. I had fish and chips several times in here, I don't tend to have good experiences. MMM….may be I should not be back here…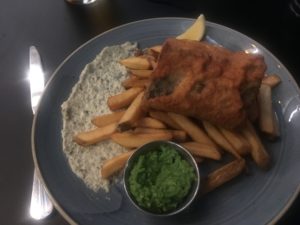 Fish : 1/10 How disappointing. You don't need to be chef to know that chunky cod is not suitable for deep fry. The flesh is too thick, it is difficult to cook through all parts of the flesh evenly, therefore strangely dry outer flesh while watery (not juicy) in the middle. Despite the chunkiness, no flavour. Also very disappointing appearance as the main star (obviously!) of "fish and chips".
Chips : 0/0 Very very disappointing. very dry chips. Good chips should be crunchy but feel some deep fry oil in mouth which added flavour and brings some element of "guilty pleasure". There is non of this. so dry, are they airfried???? Not good!
Pea shoots : 1/10 Strangely cold, watery, completely not integrated with rest of the dish with this odd temperature.
Tartare sauce was spreaded on the dish which is also bad idea, while eating the foods, all the surface started to dry up, horrible!
OMG….I must say, this is probably one of the worst fish and chips I can remember. As I did not particularly had good experience previously too, I won't come back to eat, shame, as the location is super. This is probably why they do not need to make effort…
Lovely evening ended with disappointment, Good night!