The Highbury Barn, London, London N5 2AB, 3 June 2021
Yo! No one can stop me, as I learnt the important lesson of life….here we are at the Highbury Barn.  Welcoming us back warmly, this is my second visit.  Wow, the first visit was November 2017, I was shocked by the price of fish and chips @£13.50 then.
This time, we scanned the menu – on this visit.. fish and chips….Wow whopping £15.50!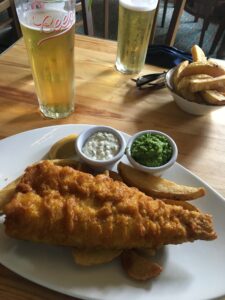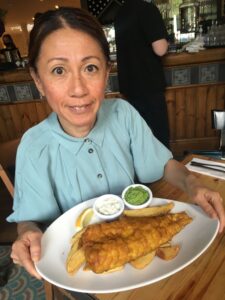 No complaint on portion size and steamy hot foods delivered in timely manner with smiles, which I can still see through the mask.
Fish: Large, fresh piece of fish meat, slightly undercooked, batter was very yellow and some yellow oil dripping on the white dish… not sure what it was (I don't have menu on my phone anymore)- no distinctive taste of this yellow pigment….
Chips: Very very chunky, too chunky for my liking, can we still call these chips?  What is the clear definition of chips?
Mashy pea : yes mushy pea, refreshing colour  accent on the plate but nothing significant otherwise.
As my declaration – no harsh scoring – £15.50 – but but but…. what can we say…. it is what it is, we all need to survive.
See you soon!