The Royal Hotel, Deal, Kent, CT14 6JD, 22 May 2021
Good evening, my first indoor post lock down fish and chips experience here at the Royal Hotel, Deal.
Weather has been horrendous, but our spirit was not dampen down.  Come on rain, bring on strong north-easterly wind! We are inside….hehehe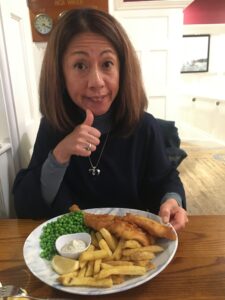 Traditional cod and chips £13.45.  A large cod fillet hand coated in out own Shepherd Name ale crispy batter with chips and peas.  Yes, the portion size is definitely satisfactory!
Fish : Lovely traditional crispy batter – but fish flesh was very "flaky".  When I cut the flesh, the piece does not stay on my fork.  Why?  I actually don't know…. it seems no issues with"freshness", except ever so slightly feels watery in the mouth as well as flaky….
Chips : These were the star of the show.  Very very tasty, must been double or even triple cooked, seasoned perfectly with salt.  Even towards the end of this big portion, my mouth did not feel "too salty" and still able to taste them well, just as my first mouthful, without getting bored of it.  Amazing!
Peas : completely mediocre frozen peas, a lot of it, no seasoning.
My be loved, be respected restaurant critic, Jay Rayner wrote in one of his article in the observer during lock down that he decided he will never criticise again, knowing how the whole sector hit by the pandemic.  He will, instead, quietly leave and never to return.
I will, also follow his step for now, No criticism, no harsh scoring.  I am, just like him, so happy to be back     to dine out.
Thank you!